Our Company History
The Company was started in 1908 by Agnes Brand, whose great-granddaughter, Alison, is one of the current directors. At that time, most households had a few hens in their garden and Agnes organised the collection of eggs and their delivery to a packing station in Aldershot, from where they were distributed to the general public.
Her husband, John Brand, worked for the local butcher and helped Agnes out by culling the odd spent-hen as required by her customers. The coming together of these two skills developed into a business packing eggs and supplying poultry and game of every kind.
John and Agnes were joined in the business by their son, Edward, who was better known as Jack. Following service in the Army during the Second World War, he returned to expand both sides of the business. At its peak in the 1950s, the Company was packing 1,200 cases of eggs per week and began slaughtering broilers as well as old hens. Edward inherited the business from his parents but sadly passed away in 1960, aged just 47. His wife, Doris, rose to the challenge and maintained the business in very demanding and changing times.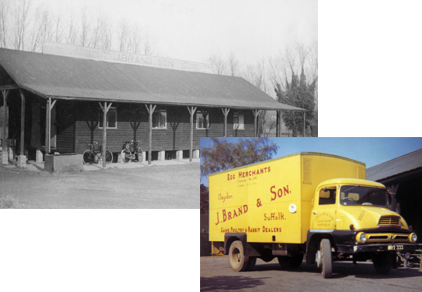 Original egg packing
station in the 1940s
Our transport in the 1950s
In 1967, after a year studying accountancy, the third generation, Graham Brand, joined the business working together with his mother until Doris retired in 1981. During that time, Doris and Graham took the difficult but prudent decision to abandon egg packing altogether and to concentrate their efforts entirely on meat production.
Graham worked tirelessly to build the business into what it is today, increasing throughput from around 20,000 birds per week in 1980 to around 180,000 per week in the year 2000. In the 1990s, Graham orchestrated the rebuilding of the entire plant resulting in the modern, efficient factory it is today.
In 1983, Paul Adams joined the Company and Graham's son, Jonathan Brand, joined in 1994. Graham's daughter, Alison Brand, joined in 2003, Graham having expressed the desire to take a back seat.
In 2005, Paul, Jonathan and Alison together took up the management reigns, individually specialising in Sales, Live Intake & Transport, and Administration, respectively. Tragically, Jonny was killed in 2007 in a road traffic accident but his input will never be forgotten. Graham passed away peacefully at home in March 2021 at the age of 74.
Alison and Paul remain committed to continuing the family tradition.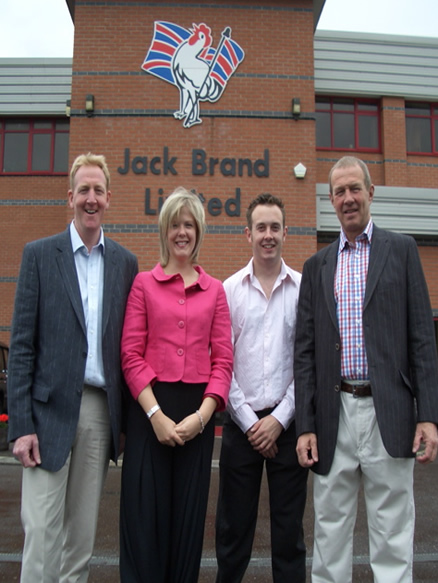 Our purpose-built production facility and administration centre at Claydon, Suffolk